ANZAC Day 2021 – project update
It's definitely time for an update! We thought ANZAC Day was a good time to show you the end result of what our volunteers did, and acknowledge their hard work and care they put into this special task. Have a look here to find out about the beginning of the project, and other similar projects that in some cases are still under way.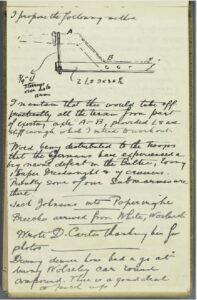 War diaries are a popular subject for research. The project ran from July 2016 to January 2019 and was focused on successfully digitising most of the WW1 soldiers' diaries, and a portion of WW1 soldiers letters held in the Hocken Archives collection. 72 diaries and other documents were digitised (around 7000 to 8000 pages). Surrogate paper copies have been printed and bound and these are catalogued on Hākena and available for use in the Reading room at Hocken. Having high quality preservation copies available for readers substantially reduces handling damage to the originals, many of which are fragile because of age and repeated handling in the past.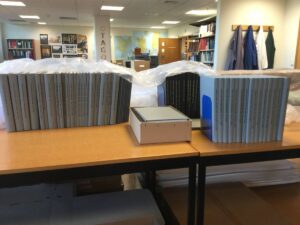 The key role played by a group of volunteers from the Friends of the Hocken Collections was the work to create transcripts in MS Word of some diaries and documents. A total of 16 were completed and donated to the Hocken by the volunteers. These volunteers were: Rosemary Clarkson, Liz Crook, Kathryn Davey, Trish Fleming, Ross Grimmett, Nigel Harwood, Denise Hesson, Rosemary Hudson, Lorraine Isaacs, Dave and Lynne Keen, Phillippa Keaney, Allison McKenzie, Barry Mackenzie, Claire Stevens and Sara Barham. You can read more about their work in an Otago Daily Times article, "Hocken friends create a wartime legacy" (23 April 2017).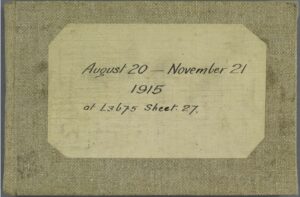 Guidelines for standardised transcription of hand written documents were developed with feedback from the volunteer group. The guidelines can be re-used for future transcription projects.
Completed transcriptions, held at the Hocken
| | | | |
| --- | --- | --- | --- |
| TR# | Title | Era | Preservation copy |
| TR-082 | Transcript of Jeffery, Minnie : War diaries volume 1, pp.1-156 | 1915-1916 | PC-0310 |
| TR-083 | Transcript of Jeffery, Minnie : War diaries volume 2, pp.157-225 | 1916-1917 | PC-0311 |
| TR-084 | Transcript of Weir, Daniel : Letters from World War I (Misc-MS-2148) | 1916-1918 | PC-0853 |
| TR-085 | Transcript of Jeffrey, J. G., Lieutenant : Transcripts of letters from Lieutenant J.G. Jeffrey (MS-1243/010) | 1915 | none available |
| TR-086 | Transcript of Paulin, Thomas Gerald : Diary (AG-777/01) | 1917 | PC-0714 |
| TR-087 | Transcript of Cargill, Arthur W. : Diary (Misc-MS-0636/001) | 1914-1915 | PC-0862 |
| TR-088 | Transcript of Cargill, Arthur W. : Diary (Misc-MS-0636/002) | 1915 | PC-0863 |
| TR-089 | Transcript of Jackson, James Gardner : Diary (AG-577/001) | 1914 | PC-0236 |
| TR-090 | Transcript of Jackson, James Gardner : Diary (AG-577/002) | 1915 | PC-0237 |
| TR-091 | Transcript of Paulin, Thomas Gerald : Diary (AG-777/02) | 1917-1918 | PC-0715 |
| TR-092 | Transcript of Cloughley, George : War diary of George Cloughley (MS-4395/001) | 1914-1916 | PC-876 |
| TR-093 | Transcript of Falconer, Alexander Smith : War diary (MS-0804/001) | 1914-1915 | PC-0880 |
| TR-094 | Transcript of Allen, John Hugh : World War I diary (MS-0139/B) | 1915 | PC-0318, PC-0319 |
| TR-095 | Transcript of Falconer, Alexander Smith : War diary (MS-0804/002) | 1915 | PC-0881 |
| TR-096 | Transcript of Lawless, James Henry : Diary (MS-1640/001) | 1915-1920 | PC-0859 |
| TR-097 | Transcript of Roberts, Edward Fletcher : Diary (August-November 1915) (MS-0485/019) | 1915 | PC-0893 |
The project was initiated in 2016
Related projects in other places include:
Measuring the ANZACs – The Measuring the ANZACs project brings together an international team of researchers, community connections around New Zealand's military history from the Auckland War Memorial Museum, and the power of the Zooniverse community to explore, analyze, and digitize original World War I personnel files. It is building on work done by Archives New Zealand
Online Cenotaph – Auckland Museum
World War One Diaries – State Library of New South Wales
The Friends' World War One transcription project is under way. The project is focusing on the transcription of World War One diaries, as well as other archival materials of that era. We've got around a dozen volunteer transcribers so far. Some are already members of Friends of the Hocken Collections, and others are joining up.
At the first transcribers' meeting, Anna Blackman, the Hocken Collections Curator of Archives & Manuscripts, had selected a range of candidates for transcription – diaries, letters and other materials.  3 examples of documents and writers are: "Donald Baxter, conscientious objector, Waiheria Reformatory", "Beaumont, letter on wood, Gallipoli, France" and "Roberts, Edward Fletcher".
Anna also provided to the group an excellent guidance document about transcribing. It includes, for example, how best to decipher handwriting and ways to ensure that the transcription duplicates, as accurately as possible, the text on a page.
Transcribing can be done (within reason!) wherever there is access to a PC, laptop or tablet. Sometimes, of course, there could be an advantage in working at the Hocken itself, with experienced interpreters of century- ago handwriting available.
Our aim is to have completed and digitised transcriptions to share via the media in a year or so from now. For example, at the time of the Passchendaele Centenary in October 2017.
A couple of our transcribers, Ross Grimmett and Trish Fleming, are well under way. It's been agreed that each transcriber would work with a partner to do checking after the first transcription draft. Ross and Trish are now checking each other's efforts! (They are working on Minnie Jeffrey's diary, part 1 and Dan Weir letters).
Other transcribers have volunteered to work on the Charles Mackie Begg diary, a James Gardner Jackson letter, lists of soldiers and narratives, the John Shaw diary, and the Trotter diary.
If you are interested in knowing more, please contact Anna Blackman, anna dot blackman at otago.ac.nz or Sara Barham, [email protected], 021 611 776.